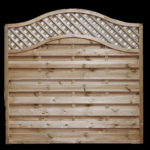 We supply fencing panels in Standish and many other areas. Our panels are planned, designed and manufactured by us from top quality timber. All our heavy duty 'V' board close board fence panels are pressure treated with Tanalith 'E'. This is a chemical that protects the wood from rot, fungus and pests. It is not sprayed on but is forced into the wood through a special pressure vessel. This allows us to offer a 10 years anti-fungal, rot and decay guarantee. We offer a number of different styles of fence panels. Also included are a few designs that are equally attractive on both sides. These are our European range and some have latticework on the top.
For your property in Standish, fencing panels that are durable and strong are what you need. Should you require fence panels that are outside our standard sizes we can easily make them to your unique specifications. These panels are the same price as a like-sized panel, so the price remains the same. Our fence posts are wood or concrete and are suited to the size of the fence. All our wood is sourced in the UK from environmentally managed and controlled woodlands. As such, we source only the best quality timber to make our fence panels, gates and fence posts. All our products are made from high-quality timber that is prepared and manufactured in our workshop by our highly experienced team of woodwork specialists.
Our high-quality fencing panels in Standish are affordable as you are buying directly from the manufacturer. For more details about our superb range of fencing panels, contact Rospal today. You are also welcome to pay us a visit and view the various designs available. We supply to the trade as well as the general public at the same price. Our prices are the best in the game. Another great aspect is if you purchase 10 or more panels we offer extra discount. For a nominal fee, we can deliver your fence panels to your home in the area. This will save you time and is a great convenience too.