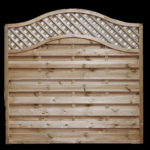 If you are looking for great quality garden fence panels in Ormskirk, come to Rospal. Here you will find a wide range of superbly crafted fence panels that will meet your specific requirements. We proudly design, manufacture and supply top quality timber fence panels that are suitable for any property. As a family run business, we take great pride in our reputation for offering the highest quality fencing products at competitive prices. Our garden fence panels are perfect for your property, no matter the size. All our fencing products, inclduding our garden fence panels are available with a 10-year anti rt, fungal and decay guarantee. This means that our fence panels are long-lasting and robust. Additionally, we can manufacture your garden fence panels to your specific measurements.
Whether you are planning on installing a new garden fence or replacing an old one, we can assist. In Ormskirk, garden fence panels are available in different styles. Choose from a range of fully tantalised and pressure treated timber garden fence panels. This range includes heavy duty V board standard, convex and concave fence panels. Additionally, you have the option of palisade and trellis fence panels as well as European fence panels. Each fence panel is carefully designed and manufactured to our exacting standards. You'll also be pleased to find that all garden fence panels are manufactured using timber sourced from environmentally sound woodlands in the UK. You cannot go wrong with our excellent quality garden fence panels for your fencing!
Garden fence panels in Ormskirk can be delivered, for a small fee, to your property. If you need a professional team to install your new garden fence, we are available. Our expert in house team can install your new garden fence panels swiftly and professionally. For more details regarding our garden fence panels, contact Rospal. Or, if you would like a quote, we will be happy to provide a free, no obligation quote for your new garden fence panels. We also offer a further discount for purchases of 10 or more standard fence panels. Choose Rospal for unbeatable quality, unbeatable prices and unbeatable services.