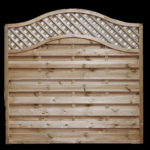 If it is time to replace your garden fencing, excellent quality garden fence panels in Ormskirk will be the best solution. A quality fence for your garden means one that is strong, durable, and attractive. There are many reasons why you opt for a garden fence. Regardless of the reason, it is essential that choose an option that will last, and look good at the same time. It is also important to choose a garden fencing option that is strong and can withstand the rigours of weather. Timber fencing is a solution as timber is one of the strongest materials used for a durable fence.
We offer top quality wooden fencing products. In Ormskirk, garden fence panels that e supply are manufactured from timber. The timber e use is sourced from carefully managed woodlands in the UK. On top of that, all our timber fencing panels are available itch a 5-year anti-fungal, rot and decay guarantee, so you can be sure that they'll last. Our fencing panels are available in a range of different styles. Each style is carefully planned and designed before on-site manufacture. Our prices are highly competitive too. Additionally, we also offer extra discounts – when you purchase 10 of more standard fence panels, you'll receive a further discount.
Not sure how you'll get your new garden fence panels in Ormskirk to your property? We can assist. For a small fee, we can deliver your fencing panels to your doorstep. We also offer an expert installation service for those who are unable to install their new fence. Hence, we only use our own staff and do not sub contract. This way we can be 100% confident of the quality of service e provide. To find out more about our excellent quality garden fence panels, contact Rospal right away. As a family run and managed business, we take great pride in the quality of our products, our workmanship and our competitive prices. Change the look of your property and chose the best quality garden fence panels from our team.