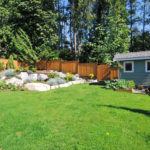 Artificial grass in Haskayne, like naturally grown grass, may or may not be good quality. In either case, you want to buy from a reputable source. You are not, after all, spending money for the exercise. Your goal is a beautiful garden lawn. You might choose artificial grass if you want a low maintenance forever green lawn. You may not have the time or inclination to weed, feed and mow grass in the amount of free time you have available. We have what you're looking for at Rospal. Our artificial grass is manufactured in Europe to ISO quality standards. That means our artificial grass products consistently meet customer requirements and the highest DTEX density standards for yarn count.
The artificial grass we make available to our customer is high quality and long-lasting. In Haskayne, artificial grass that we sell to you is consistently safe to children and pets. Our products pose no threat to the environment on any level. There is always the push to improve products where possible but safety is never compromised. Our artificial grass is manufactured for long use. It's nice to look at but it's designed to be used for family activities and games. Minor maintenance to keep your artificial garden lawn beautiful is primarily washing it down with a water hose to remove dirt, grime and pet waste while fluffing up the fibres and leaving a clean smell.
There are big benefits to artificial grass in Haskayne besides consistent good looks and low maintenance. Artificial grass creates a barrier through which pesky rodents cannot dig; not from the bottom up or the top down. Insects like fleas and mosquitoes are greatly reduced. There is no watery muddy soil for them to breed in. How much better could it get? This is a whole new level of enjoyment of the outdoors without the misery. Contact Rospal for a free quote on the purchase and installation of artificial grass. We have several kinds from which to choose. Your lawn will look beautiful and have the soft texture you expect from natural grass. It's also highly cost-effective when you consider that it will last about 20 years. That's a bargain.